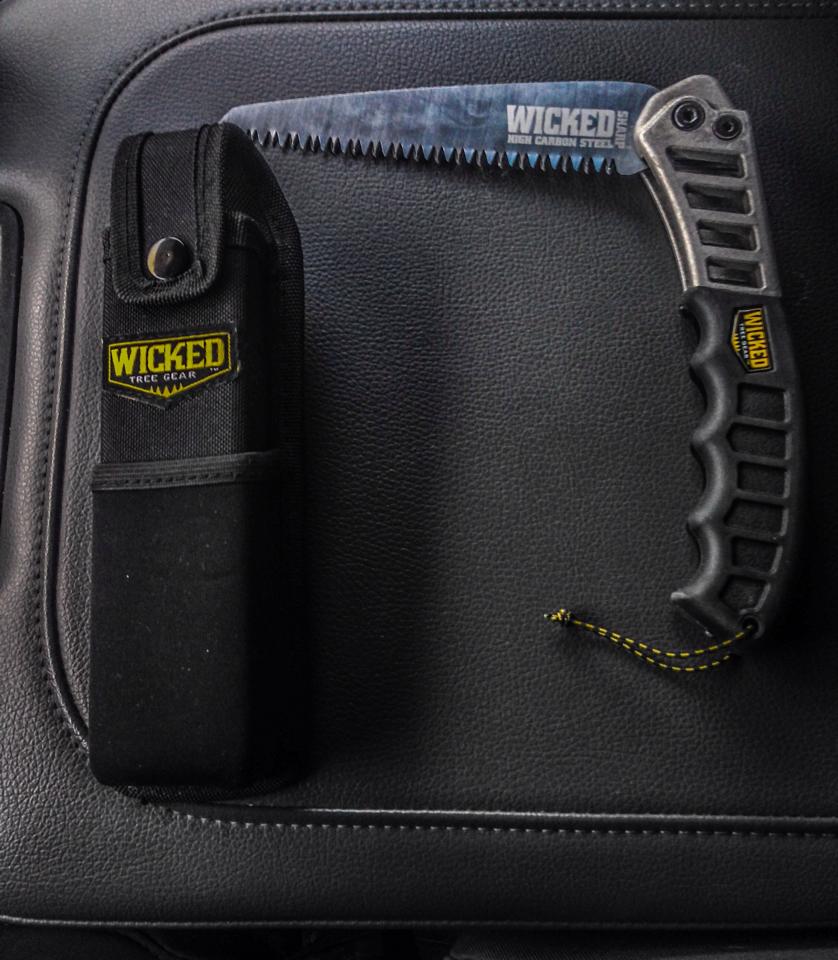 Several months ago I was at a trade show in Ohio when I ran into the boys from Wicked Tree Gear.
After talking for awhile and being invited to check out their product line, I swung by their booth to check out the saws firsthand.
Previously I had heard of Wicked Tree Gear but never actually held one of the saws in my hand.
While at their booth I was able to see and hold their hand saws and pole saws. Needless to say I was very impressed by the sharpness, feel, and balance of the saws.
I left the show that day with one of the hand saws.
Now over the years like many hunters, I have purchased a variety of handsaws that never really seemed to hold up.
Either they weren't sharp or the blade was so flimsy it would bend while cutting limbs and small trees.
That however is not the case with the wicked line.
The The wicked sharp blade is made from a heavy gauge .050″ thick high-carbon steel that has been specified based on its strength to hardness ratio.
The Wicked Sharp blade is by-far the toughest and most durable all-around blade that I've ever used. The handle is another great feature on the hand saw.
The handle has a rubber grip with indentations for your fingers to allow for a solid grip on the saw.
These features combined together make cutting shooting lanes, clearing brush or even basic tree trimming a breeze.
Another great thing about Wicked Tree Gear is the customer service and guys running the company.
The saws are made right here in the USA and all put together one by one to insure the highest level of quality and standards are met.
I know if I ever have an issue with a saw all I would need to do is contact Todd Pringnitz or John Mulligan .
I am confident they would assist me and take all the steps needed to resolve any issues, comments, or concerns I may have.
I think that is a super important characteristic when working with a company or buying their product.
If your looking for the toughest saw on the market to assist you on your next hunt, look no further than Wicked Tree Gear!